In August, both the number of units sold and the sales volume increased compared to the previous month and for just the 3rd time this year, both the Average and Median Sales Price increased over last year. The Average Sales Price of $707,497 represents an 8% increase and the Median Sales Price of $550,000 increased 3% compared to August of 2022.
However, the Outer Banks real estate market continues to struggle compared to recent years. August was the 13th consecutive month where both the units and sales volume decreased compared to the previous year.
Year to date, listings are down 29% and this decline in inventory has had a significant impact on our business. We continue to be in a strong seller's market!
Buyers are still buying and when property does come on the market, it sells! In August, the Average Days on Market (DOM) was only 40, marking the third consecutive month of decreasing DOM compared to the previous month.
August MLS Fun Facts:
August units decreased 31% and sales volume by 25% compared to last August
On average, property sold for 96% of the original asking price
40% of the August closings were cash closings!
A 28 bedroom, 28 bath oceanfront house in Kill Devil Hills sold for $7,007,777 making it the highest sale for the month and the highest residential sale of all time recorded in our MLS!
6 oceanfront homes sold with an Average Sales Price of $2,459,629 and a Median Sales Price of $1,950,000 and on average, sold for just 89% of the original asking price. 3 of the 6 were cash sales.
There were 20 sales over $1 Million, compared to 17 the previous month
33% of the property listed in August is either under contract (64) or has been sold (5) as of 9.7.23
*All stats based on the Outer Banks Association of Realtors MLS, residential Dare & Currituck County.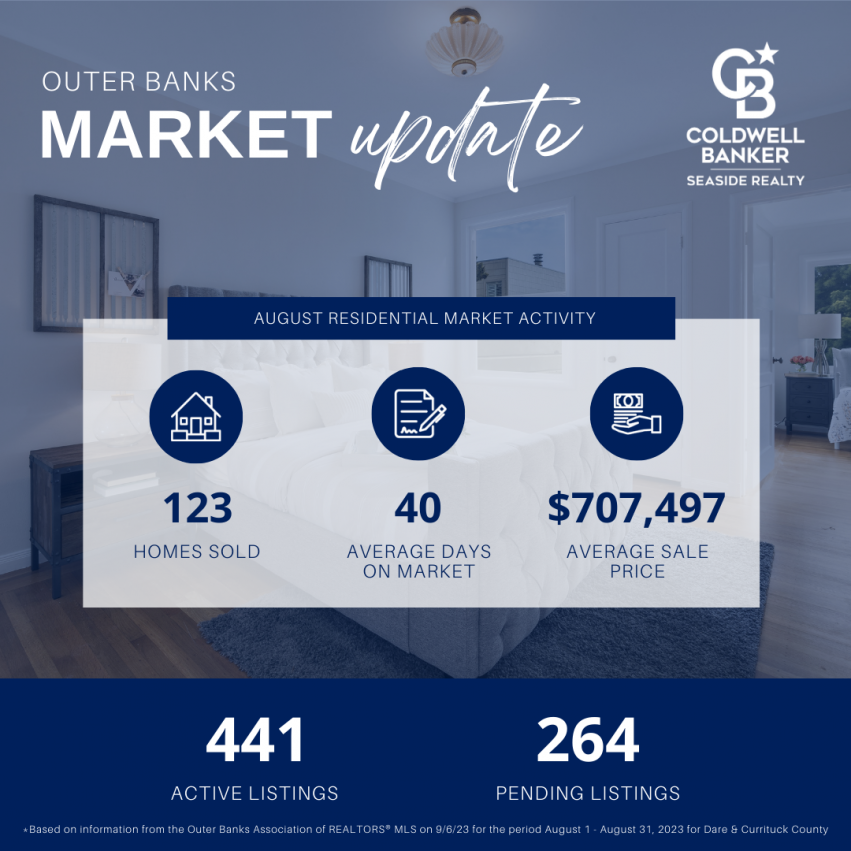 Year to Date:
Units are down 34% and sales volume by 38%
105 oceanfront homes were sold compare to 209 last year at this time
There have been 31 sales for $2 Million and higher (compared to 77 last year)
The Average Sales Price of $710,997 represents a 7% decrease year over year but is 74% higher than in 2019 when the January – August Average Sales Price was just $408,896!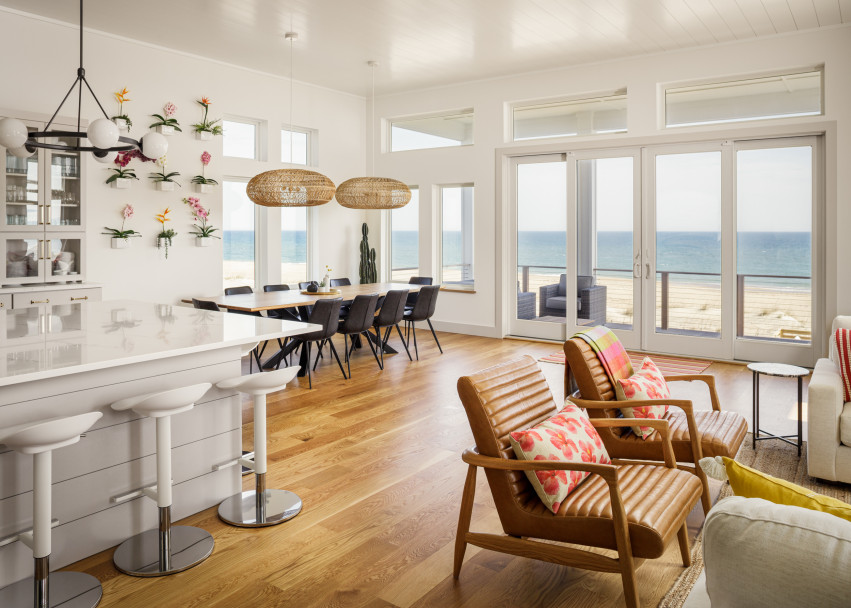 Expert Home Price Forecasts: Then and Now
Toward the end of last year, there were a number of headlines saying home prices were going to fall substantially in 2023. That led to a lot of fear and questions about whether there was going to be a repeat of the housing crash that happened back in 2008. But the headlines got it wrong.
While there was a slight home price correction after the sky-high price appreciation during the 'unicorn' years, nationally, home prices didn't come crashing down. If anything, prices were a lot more resilient than many people expected.
Let's take a look at some of the expert forecasts from late last year stacked against their most recent forecasts to show that even the experts recognize they were overly pessimistic. Read the full blog post on Keeping Current Matters
This visual shows the 2023 home price forecasts from seven organizations. It provides the original 2023 forecasts (released in late 2022) for what would happen to home prices by the end of this year and their most recently revised 2023 forecasts (see chart).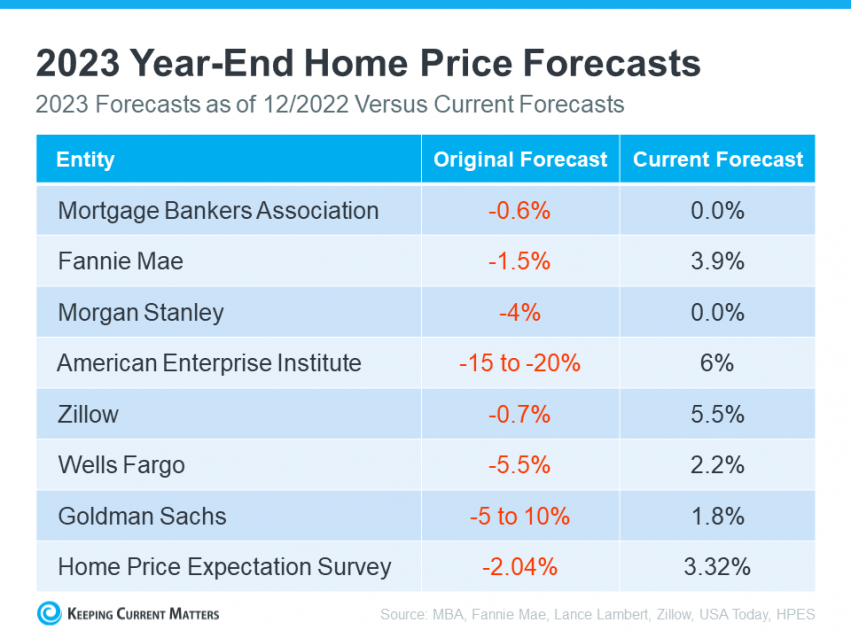 How's the Vacation Rental Market?
Michelle Russell, Business Development Manager with Seaside Vacations, reports "We continue to observe a significant amount of activity for 2023, and our last-minute bookings are showing remarkable strength."
The month of August resulted in hundreds of last-minute bookings with an average booking window of 19.5 days prior to arrival and average length of stay of 7.33 days. Last-minute bookings for September continue to look strong even with the activity in the tropics.
With Labor Day and the unofficial end to Summer behind us, we are seeing occupancy rates decrease each week through the fall as expected.
Thanksgiving week occupancy remains consistent with last year, while Christmas week has started trailing behind slightly.
Average 2024 occupancy remains flat against 2023, while average daily rate is up 12% and Unit Revenue is up 9%. For the period of June - December bookings are up 17%, but Spring is looking soft again next year particularly in May where YTD occupancy is down from 12.4% this same time last year for 2023 to only 7.6%.
Michelle can be reached at [email protected].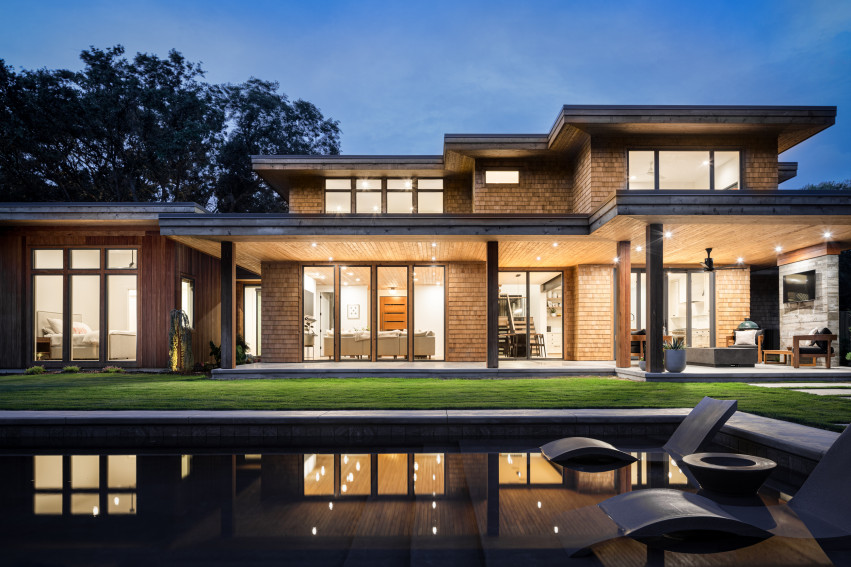 As always, I am available to help with all your real estate needs!
- Cameron Griggs