Although the numbers continue to decline compared to last year, the activity did pick up, and the decrease in numbers continues to be the direct result of low inventory. While units were down slightly compared to the previous month, June sales volume experienced an uptick due to several high-end sales.
In June, 65 of the 165 properties sold went for 100% or higher of the asking price which is a strong indicator that buyer demand remains high!
For the 2nd month in a row, the average sales price increased compared to the previous month!
June MLS Fun Facts:
The Average Asking Price of a single-family home listed in June was $775,254
79 of the 174 properties listed in June have either sold (8) or are already pending (71) after being on the market, on average, for just 7 days!
On average, property sold for 94% of the original asking price
22% of the closings were cash transactions, 65% conventional loans
3 homes sold for over $3 Million. 2 were investment homes with rental income and one home was located in a primary residence area (Martins Point)
The Average Sold Price of $811,140 was the highest monthly average for at least the past 4 years!
*All stats based on the Outer Banks Association of Realtors MLS, residential Dare & Currituck County.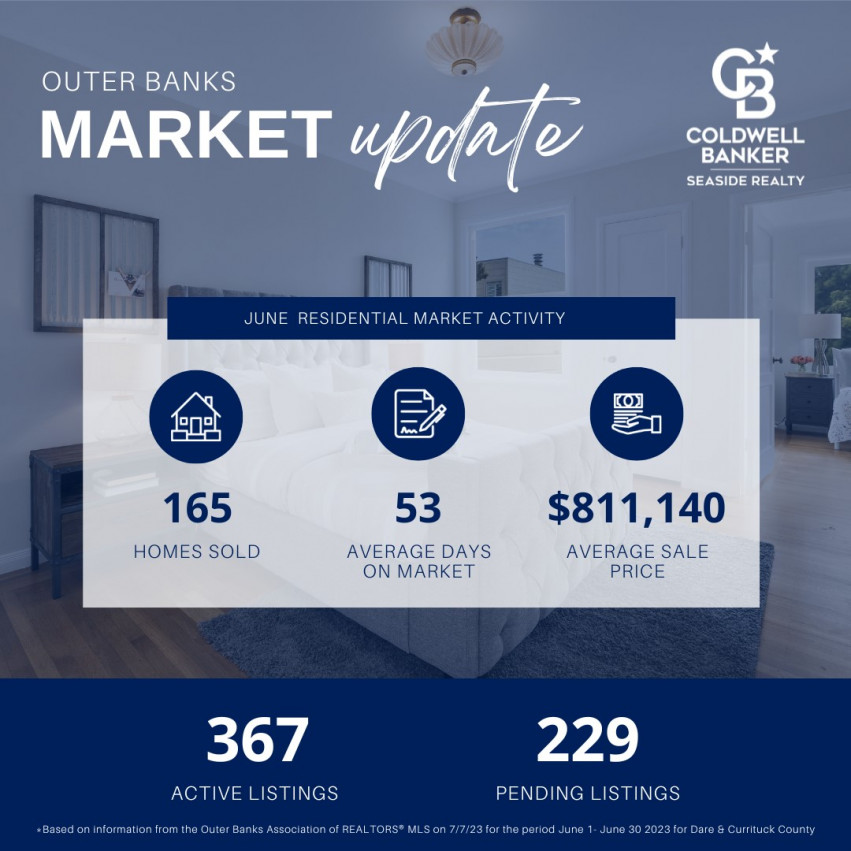 Year to Date:
For the first time in three years, our market is actually experiencing a downward trend compared to 2019, which was before the pandemic. It is highly likely the low Inventory and high mortgage rates are to blame.
Both Dare (-28%) and Currituck County (-22%) have inventory levels below Mid-Year 2022. Here are just a few examples of areas with substantial decreases in active inventory of single-family homes:
Nags Head oceanside: -57%
Kitty Hawk between the highways: -46%
Duck oceanside: -41%
Nags Head between the highways: -41%
Corolla Oceanside: -37%
Kitty Hawk Westside: -36%
Hatteras Island: -33%
Nags Head westside saw the highest increase compared to last year with a 50% increase in active inventory!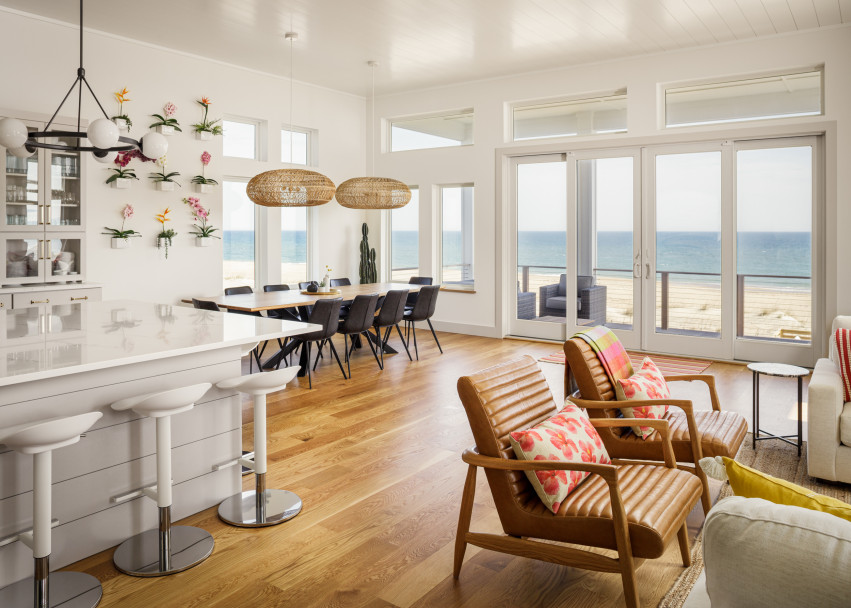 Today's Housing Inventory Is a Sweet Spot for Sellers
According to a recent blog post on Keeping Current Matters, one of the biggest challenges in the housing market right now is how few homes there are for sale compared to the number of people who want to buy them. To help emphasize just how limited housing inventory still is, let's take a look at the latest information on active listings, or homes for sale in a given month, as it compares to more normal levels.
According to a recent report from Realtor.com:
"On average, active inventory in June was 50.6% below pre-pandemic 2017–2019 levels."
The graph included here helps illustrate this point. It uses historical data to provide a more concrete look at how much the numbers are still lagging behind the level of inventory typical of a more normal market (see graph).
It's worth noting that 2020-2022 are not included in this graph. That's because they were truly abnormal years for the housing market. To make the comparison fair, those have been omitted so they don't distort the data.
When you compare the orange bars for 2023 with the last normal years for the housing market (2017-2019), you can see the count of active listings is still far below the norm.
What Does This Mean for You?
If you're thinking about selling your house, that low inventory is why this is a great time to do so. Buyers have fewer choices now than they did in more normal years, and that's continuing to impact some key statistics in the housing market. For example, sellers will be happy to see the following data from the latest Confidence Index from the National Association of Realtors (NAR):
The percent of homes that sold in less than a month ticked up slightly to 74%.
The median days on market went down to 18 days, showing homes are still selling fast when priced right.
The average number of offers on recently sold homes went up to 3.3 offers.
Bottom Line
When supply is so low, your house is going to be in the spotlight. That's why sellers are seeing their homes sell a little faster and get more offers right now. If you've thought about selling, now's the time to make a move.
How's the Vacation Rental Market?
Once again, we reached out to Michelle Russell, Business Development Manager for Seaside Vacations for an update in the vacation rental market.
Overall, the market is holding steady and 2023 is trending about 5% down vs last year. Unit revenue is up 16% and the Average Daily Rate is up 17%, despite discounting. Most of the decline was seen during the spring when bookings were down 25.85% for the March 1 – May 20 time frame. We saw a lot of last-minute booking activity in June which has carried over to July.
September bookings have slowed and are now pacing slightly behind last year. October occupancy is consistent with last year.
Thanksgiving and Christmas weeks continue to do well and remain just slightly ahead of last year YTD.
2024 bookings are rolling in at Seaside and while the market overall is down about 14.7% in booking activity for 2024, year to date Seaside is outpacing 2023 advance bookings by 16.23% for 2024! For example, we are seeing June 2024 weeks already hitting occupancy rates of 10% and bookings between 7/14 - 9/28/2024 are almost double what they were this same time last year (46.6% increase over that period last year YTD).
While we are excited to see this activity it tells me we may see similar booking trends next year to what we did in 2023 so its important owners have their calendars open and begin accepting bookings now.
Seaside Vacations manages over 400 rental homes and recently expanded to Hatteras Island.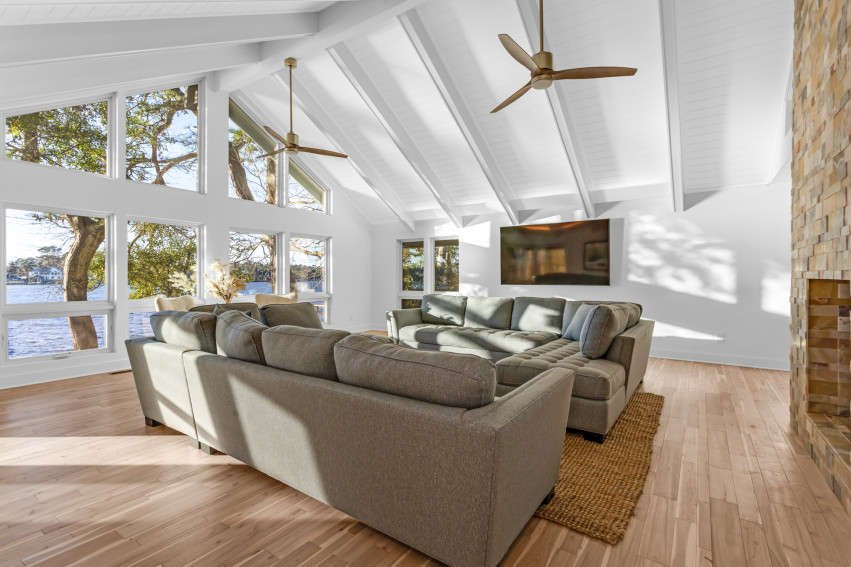 As always, I am available to help with all your real estate needs!
- Cameron Griggs