Weather and Inventory Tick Upwards
The Outer Banks market had a nice uptick in business and March was the best month for sold units since last August! We have seen a return of multiple offers (as high as 9 on one property recently) and buyers do not seem to be intimidated by the high interest rates.
March was the best listing month since last August as well. Although our market remains in a strong seller's market, it was good to see an increase in homes coming on the market!
A few March MLS Fun Facts:
28 homes sold for $1 Million and higher including 5 which sold for over $2 Million
A Southern Shores oceanfront home sold for $6,050,000 making it the highest sale of the month and year!
On average, property sold for 92% of the original asking price
38 of the 170 residential closings were cash sales
86 of the 183 new listings in March are already under contract with an average Days on Market of just 7!
*All stats based on the Outer Banks Association of Realtors MLS, residential Dare & Currituck County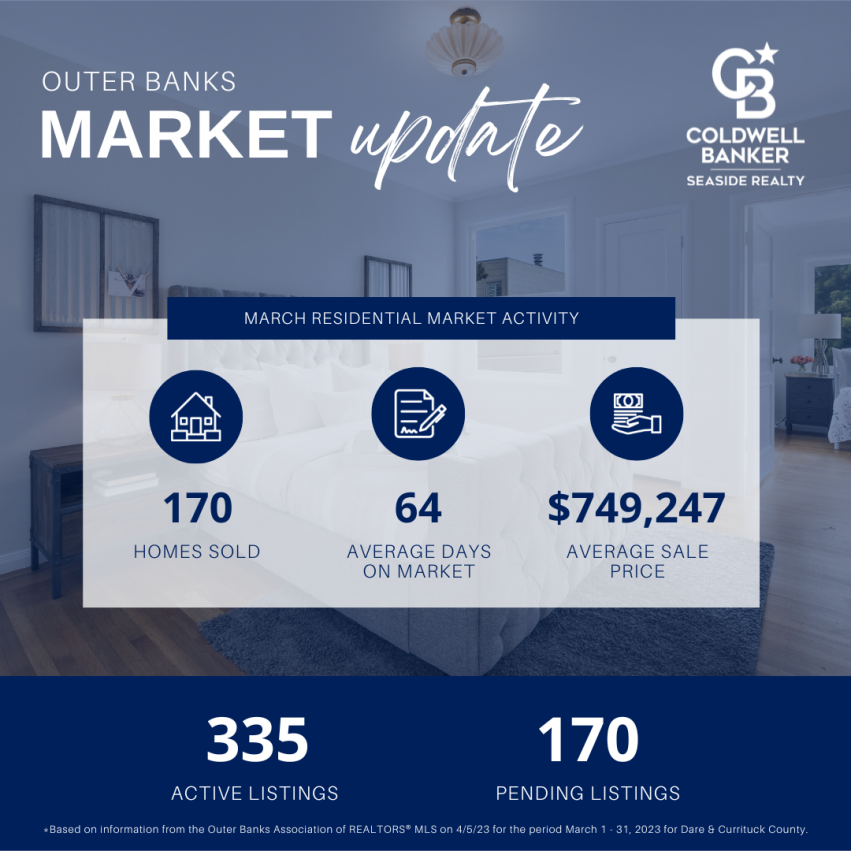 Inventory Updates
Year to date we continue to be in a strong sellers' market! 292 of the 483 residential properties listed in the 1st Quarter have either been sold or are currently under contract. Inventory levels remain low and active inventory is down 9% in Dare and 11% in Currituck County.
Areas with active inventory levels down by more than 30%:
Southern Shores oceanside: -64%
Nags Head Oceanside: -54%
Martins Point -42%
Corolla oceanside: -34%
Pirates Cove: -32%
Hatteras Island: -32%
Nags Head between the highways: -31%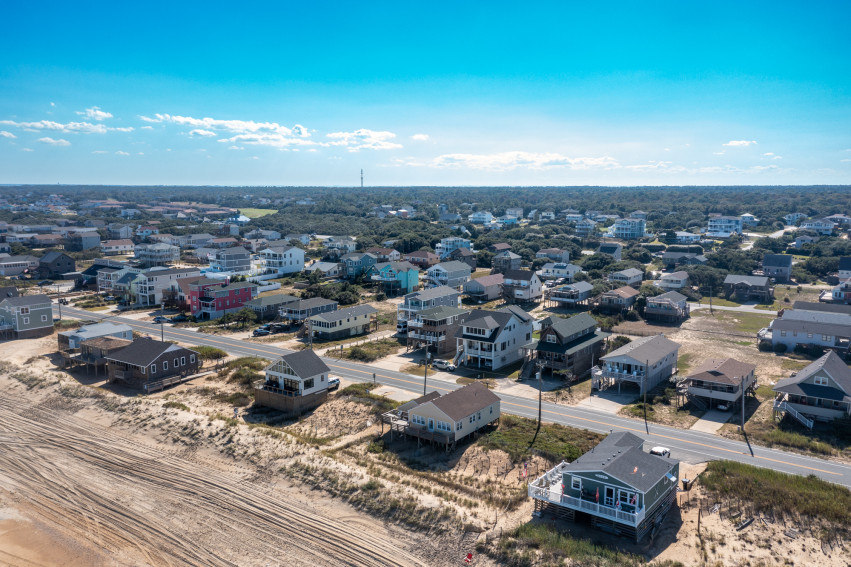 Q1 Highlights:
Units are down 42% and sales volume decreased by 47%
The Average Sold Price of $700,984 decreased 9% and the Median Sold Price of $565,000 was down just 6%
On average, property sold for 93% of the asking price

The high-end luxury market is still active but down considerably compared to Q1 of 2022:

25 oceanfront homes sold compared to 69. However, the average sales price of $1,992,460 was similar ($1,977,357)
13 homes sold for $2 Million and higher this year compared to 29 last year
Vacation Rental Market Update
w/ Michelle Russell of Seaside Vacations
The occupancy rate is down 6% but with the Average Daily rate up 18% and the Nightly Unit Revenue up 14% year over year, homeowners are generating more income off of less bookings.
The big news is we are seeing a shorter booking window this year than what we've become accustomed to in the past few years however, the pace has picked up a bit in March.
June, July, and August weeks have a general occupancy rate of about 73% with some as low as 60% and some as high as 76%. Please note that while these figures are accurate, we have listed 11 new homes in the last 3 weeks and every new home drops occupancy rates until we have an opportunity to fill weeks.
The Fall is doing fantastic with occupancy for the period between 8/26 - 10/30 running 14% ahead of this same time last year.
As always, I am available to help with all your real estate needs!
- Cameron Griggs