October OBX Market Update
We are nearing the end of 2023 and there are so many questions on how the market will perform in 2024. The market's direction hinges on two critical factors: inventory levels and mortgage rates. Despite our active inventory being down double-digits compared to the previous year, buyers are still buying! For the month of October, the average days on market of 38 was the lowest of this year. Notably, out of the 114 properties sold in October, 54 sold for at or above 100% of the original asking price indicating buyers remain undeterred by the prevailing high-interest rates.
October MLS Fun Facts:
36% of the closings were cash transactions.
On average, property sold for 95% of the original asking price
The average DOM of 38 is the exact same as last October!
Of the 178 residential listings in October, 32% are already under contract (51) or have been sold (6).
The average sales price for the month was the highest since June of this year!
23 single family homes sold for $500k or less
4 homes sold for over $2 Million including an oceanfront in the Palmer's Island section of Duck which sold for close to $5.7 Million making it the highest sale of the month!
10 oceanfront homes sold for an Average Sales Price of $1,926,580
*All stats based on the Outer Banks Association of Realtors MLS, residential Dare & Currituck County.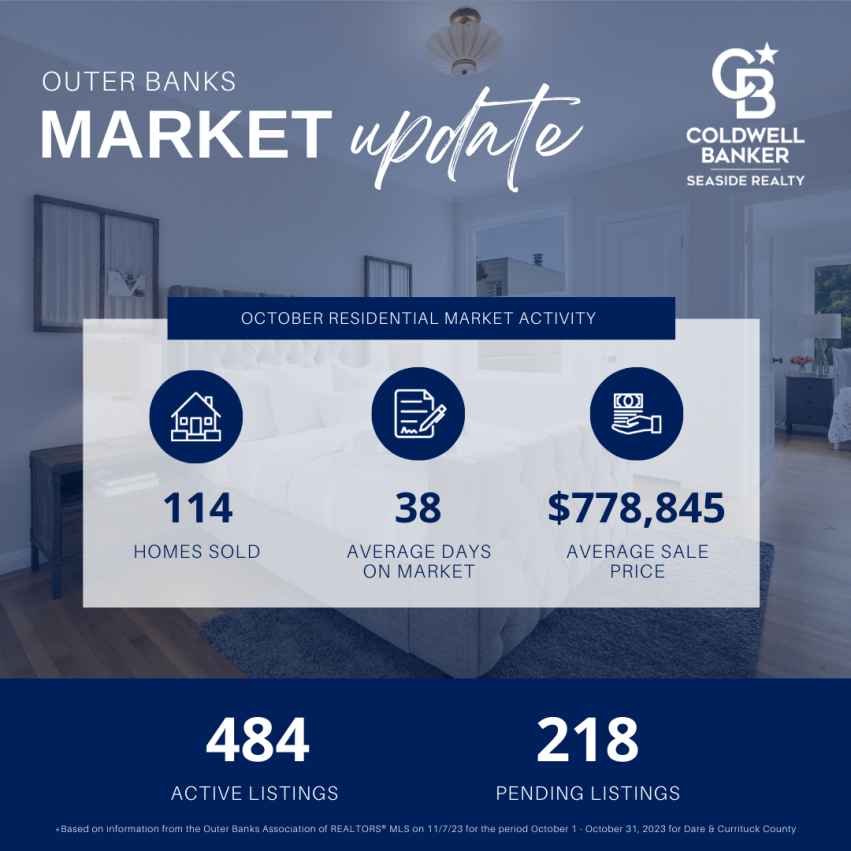 Year to Date:
Home values are holding relatively steady. Year to date, the Average Sales Price, at $712,126, reflects only a modest 6% decrease, indicating a level of stability in our market. The number of units sold, on the other hand, has experienced a consistent downward trend, declining by 31%, a pattern that has remained relatively stable throughout the year.
The Median Sales Price has remained consistent throughout the entire year, standing at $583,000 as of the end of October. This reflects only a marginal 1% decrease from the year-end value in 2022.
The Average Days on Market of 51 is the same as it was at the end of 2021
Active inventory is down 16% in Dare and 26% in Currituck County
YTD Waterfront highlights:
Currently, oceanfront and soundfront homes are experiencing a more significant decrease in value compared to the overall real estate market. Oceanfront properties have seen a substantial decline of 55%, while soundfront homes have also decreased by 34%. In contrast, the total residential market has seen a decrease of 31% in terms of unit sales
The Average Sales Price of an oceanfront home was $2,002,335 and the Median Sales Price was $1,700. On average, they sold for 90% of the original asking price. 11 homes sold for 100% or higher!
The Average Sales Price of a soundfront home is $1,200,771. The Median Sales Price is $1,149,900
107 canalfront homes sold this year (108 last year) with an Average Sales Price of $626,525 and a Median Sales Price of $579,900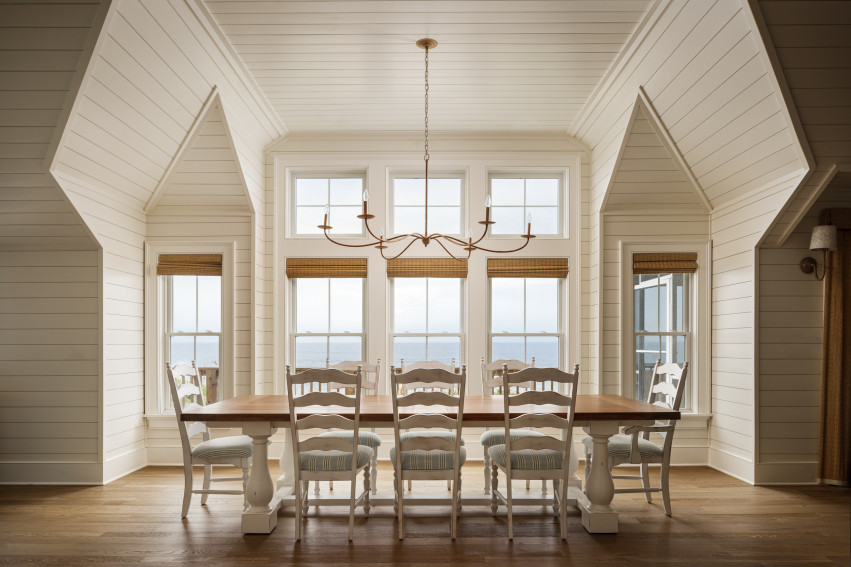 A note from Lindsey Dail with Towne Bank Insurance:
Our insurance market is extremely limited as the coast of Florida was hit hard with storms the last two years. Our markets that insure here on the Outer Banks also insure in Florida which causes the carriers and companies to pay special attention to all their coastal exposure. Here at Towne Insurance Agency, we are always looking for the next best market to be sure your clients are insured properly.
You will notice a lot of Dwelling Fire policies also known as DP2 policies are being quoted. North Carolina Joint Underwriter Association is forced to provide insurance here in North Carolina. It seems a lot of homes being sold today are built in the 80's or 90's so more than likely they have the polybutylene plumbing which all our carriers exclude this plumbing, so our only option is a DP2 policy with NCJUA. One important coverage this type of policy does not include is, wind driven rain.
I feel like honesty goes a long way in the insurance world. My goal is to be sure my clients understand what I am offering and what the policies do not cover so they are not finding this out in the event of a claim. Please call me today (252)-202-6150 or email me [email protected]. I would be happy to review your current policies to be sure you have the proper coverage or if there are holes in your coverage limits.
As always, I am available to help with all your real estate needs!
- Cameron Griggs
Thank you for reaching out!
We'll get in touch with you soon.
Curious about what
your home is worth now?
Get an accurate home value report from our team.